Frederik Schavemaker
This interview is part of a series of conversations with the people working at Mimetas.

T

he 'I

' in MIMETAS focuses on the personal side of the people who drive our world. Today we talk to Frederik Schavemaker, Product Design Engineer at MIMETAS.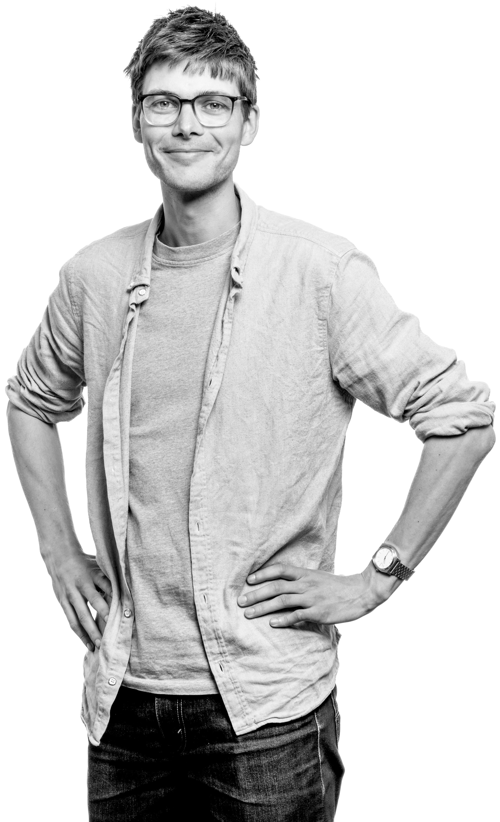 If MIMETAS had a theme song for its 10-year anniversary, what would it be and why?
One More Time – Daft Punk. It's a classic, it never ages, it keeps on going strong, just like MIMETAS, and since we celebrated our 10-year anniversary in France with the whole company, it's even more on point.
As Product Design Engineer, what does your average day working at MIMETAS look like?
My average day is quite varied and involves various aspects of the product development process. Specifically in our prototyping workshop, it requires hands-on work. This might entail bringing initial product concepts to life, experimenting with materials and designs, and refining prototypes to align with our vision. I also often test the latest improvements of our existing products, ensuring they meet our high standards of functionality and user experience.
Collaboration is also a key part of my day, ranging from brainstorming meetings with colleagues to shape the direction of future products, to being involved with the finer details such as creating user manuals and designing packaging.
Who or what is your biggest inspiration?
While I don't have a single specific individual as my biggest inspiration, I draw inspiration from a wide range of sources. I find inspiration in the diversity of ideas and experiences the world has to offer. Whether it's visiting museums, different genres of music, the beauty of nature and architecture, delving into movies, books, and podcasts. I love new experiences.
What was the biggest challenge you faced during your professional career?
While I've encountered various technical challenges throughout my career, the most prominent ones often revolve around meeting stringent biological requirements where "safe assumptions" are not good enough. Just because you anticipate a certain scientific theory to be right, does not mean your results will reflect it. This challenge has pushed me to constantly refine my problem-solving skills, adapt to evolving circumstances, and seek innovative solutions to bridge the gap between theory and practice.
MIMETAS has achieved significant milestones over the past decade. Which milestone do you resonate with the most, and why?
I'm very proud of the launch of the OrganoTEER® and the OrganoFlow® products at MIMETAS. These products were significant milestones achieved through collaborative teamwork between multiple different disciplines and partners. What makes these launches particularly meaningful to me is the opportunity they provided me to showcase the value of excellent design, starting from a user-centric perspective while making sure it is technically feasible. Those products also played a pivotal role in defining MIMETAS' unique style and product identity. Overall, the launch of OrganoTEER and OrganoFlow reflects MIMETAS' dedication to delivering outstanding solutions while embodying our distinct product design philosophy.
If you could send a message to yourself 10 years ago, what would you tell the younger you?
Hi Frederik, this is a message from the future. Continue following your intuition, stay curious and you'll be fine.
What is the best thing about working at MIMETAS?
The best thing about working at MIMETAS is the dynamic and inspiring environment it offers. Firstly, the colleagues who share the shared ambitious mindset of disrupting the drug development process and actively contributing to it. Secondly, the diversity within the company. I have the privilege of collaborating with professionals from various disciplines I get to cooperate with where you can learn from but also complement each other. Being involved with cross-departmental projects adds variety to my daily work routine and is refreshing. Sometimes I have to focus on product design orientated tasks while other days mostly consist of processes involved in product development.