Leiden, March 28, 2023 – MIMETAS, a global leader in human disease modeling announces that it has entered into a strategic partnership with Astellas Pharma Inc., a global pharmaceutical company. The partnership comprises utilizing MIMETAS' comprehensive tumor models to support the next generation of immuno-oncological therapies.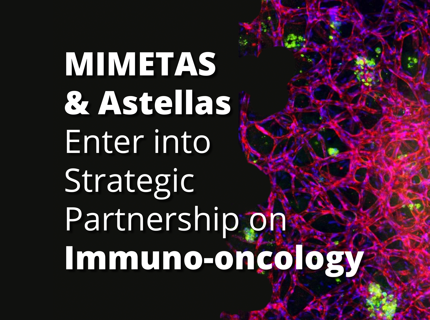 "We are excited to make this next step in our longstanding collaboration with Astellas," Paul Vulto, CEO of MIMETAS, says. "Astellas is among Japan's most innovative pharmaceutical companies with ambitious programs on cancer cell therapies and bispecific immune cell engagers. MIMETAS has the expertise and technology to capture the complexity of tumors and their microenvironments. This crucial piece of a puzzle allows us to understand tumor biology more deeply and supports Astellas' ambition to substantially increase response rate to immuno-oncological treatments."
Under the partnership, Astellas will receive access to MIMETAS immune oncological disease assays. MIMETAS will be eligible for upfront and milestone payments.