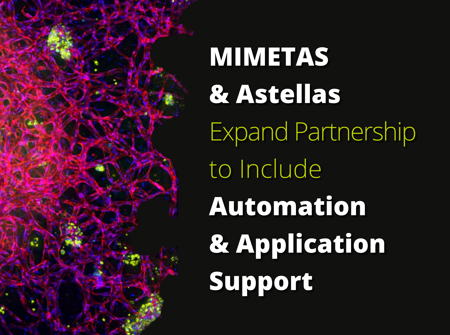 Leiden June 20, 2023 - MIMETAS, a global leader in human disease modeling announces that it has expanded its ongoing partnership with Astellas, a global pharmaceutical company, to include automation and application support.
"We are truly honored by the trust of the Astellas team in our capabilities," says Paul Vulto, CEO of MIMETAS. "Astellas is a true innovation leader that understands the importance of human-relevant tissue and disease modeling for novel therapy development. We will continue supporting Astellas with our expertise and technology to accelerate therapy development for today's unmet medical need and contribute to Astellas' vision to turn innovative science into patient benefits."
The relationship between Mimetas and Astellas began in 2016, by accepting three scientists from Astellas for hands-on training at MIMETAS. In March 2023, a strategic partnership was announced to devise novel immuno-oncology therapies based on MIMETAS' comprehensive tumor models. This partnership is to be leveraged by automation and application support, thus expanding the adoption of the MIMETAS platform at Astellas.