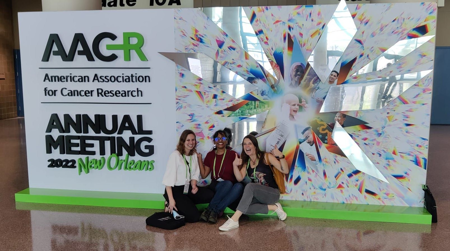 New Orleans, April 8-13, 2022 – MIMETAS has just attended the AACR Annual Meeting in person. The AACR Annual Meeting is organized by the American Association For Cancer Research (AACR).
This year's program covered the latest discoveries across the spectrum of cancer research—from population science and prevention; to cancer biology, translational, and clinical studies; to survivorship and advocacy—and highlights the work of the best minds in research and medicine from institutions all over the world. We would like to take you along in our activities and give a glimpse of this wonderful week!
MIMETAS at AACR 2022
Organ-on-a-chip (OoaC) models improve the human physiological relevance of cultured tissues and have better predictive ability than conventional models for drug screening. Making OoaC systems such as the OrganoPlate® platform available for automation and high-throughput drug screening purposes would offer the scalability and usability needed for pharmaceutical use. This will help make strides in accelerating oncology drug development and contribute to understanding the pathophysiology of (cancer) disease.
This year, MIMETAS attended with a booth and presented various posters addressing the use of Organ-on-a-Chip for cancer research. Attendees could delve into the latest advancements in our ground-breaking tissue and disease models enhancing oncology drug discovery and development.
Research presented at AACR:
Oncology related publications:

Do you want to learn more how we can support your cancer research? Get in touch with us!