On-Demand Webinar
Imagine doing longitudinal and physiologically relevant in vitro nephrotoxicity studies. Are you currently relying on time-consuming animal models to investigate drug-induced kidney injury? Or you are using 2D cell cultures with limited predictive value? Microfluidic 3D cell cultures can provide you with a solution to both problems.
In the first two webinars of this series, you learned:
How to develop a 3D in vitro model of fully polarized renal proximal tubular epithelial cells expressing active transporters that are necessary for your nephrotoxicity studies [webinar 1]
How this model was further validated through drug-drug interaction studies. [webinar 2]
In this webinar, you will learn how you can use miRNAs as biomarkers for early nephrotoxicity. Prof Laura Suter-Dick (University of Applied Sciences and Arts Northwestern Switzerland FHNW) explains how she optimized and validated this using the OrganoPlate®.
The OrganoPlate® platform is already successfully being used by the top 10 pharma as well as by hundreds of academic researchers worldwide.

In this webinar, you will learn:
How the renal proximal tubule model grown in the OrganoPlate® compares to 2D culture in response to toxic compounds
The key physiological parameters to include in a nephrotoxicity model
The use of a panel of miRNA biomarkers to assess nephrotoxicity in vitro

What others have said about the OrganoPlate®

"With the MIMETAS' OrganoPlate, we developed a 3D brain-on-a-chip model that made easy to do high-throughput and high-content imaging to evaluate the acute toxicity of neurotoxins. OrganoPlate allowed the study of membrane-free vascular formation in a dynamic environment and further provided reliable and repeatable experiments with strong imagining capability." — Dr. Yeoheung Yun, Associate Professor at North Carolina A&T State University

"Often you have to compromise: it's either the throughput or it's the complexity of the model. Getting both in the same platform…no other platforms can do that!" – Senior Scientist from top pharma

Speaker
Prof. Dr. Laura Suter-Dick, Professor at FHNW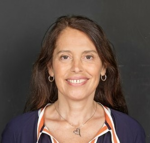 Prof. Dr. Laura Suter-Dick is Professor for Molecular Toxicology in the School of Life Sciences at the University of Applied Sciences Northwestern Switzerland (FHNW). She is a European Registered Toxicologist (ERT) with a PhD in biology and experience in pharmaceutical drug research, including 15 years at F. Hoffmann-La Roche Ltd. Her research is dedicated to mechanistic toxicology questions and encompasses the use of advanced in vitro systems, toxicogenomics, biomarker discovery, new technologies and alternative in vitro methods. Her current research group focuses on in vitro toxicity and pharmacology test systems applied in collaborative projects with industrial and academic partners as well as on student projects. She is a board member of ESTIV (European Society of in vitro Toxicology), a member of the advisory board of SCRNTox (Stem cells for relevant efficient extended and normalized toxicology, part of SEURAT) and an expert evaluator for grant applications in EC-funded programs (FP7 and Horizon 2020). She also acted as Scientific Consultant for the European Partnership for Alternatives to Animal Testing (EPAA).

Related publications