On-Demand Webinar
Are you frustrated with your animal models to study nephrotoxicity? Or is your 2D cell culture model keeping you up at night? You know that having reliable results from nephrotoxicity studies can make or break the introduction of a new compound to the market. The stakes are too high. These studies cannot be left to poor models that fail to translate to in vivo or models that have limited physiological relevance.
In this webinar, you will learn about a robust in vitro system, the OrganoPlate®, to perform in vitro studies on 3D perfused proximal tubules. You will learn how to develop a model of fully polarized renal proximal tubular epithelial cells expressing active transporters needed for your studies. You will discover how to obtain reliable, consistent, and physiologically relevant results quickly using human cell lines in advanced 3D cell culture models.
The OrganoPlate® platform is already successfully being used by the top 10 pharma as well as by hundreds of academic researchers worldwide.

In this webinar, you will learn:
Limitations of current kidney proximal tubule models and how to overcome them
How to build a leak-tight 3D in vitro kidney proximal tubule model with fully polarized renal proximal tubular epithelial cells thanks to flow and co-cultures
How to obtain consistent and reproducible data
How to easily assess proximal tubules' permeability and integrity to gauge your model leak-tightness

What others have said about the OrganoPlate®
"With the MIMETAS OrganoPlate, we developed a 3D brain-on-a-chip model that made easy to do high-throughput and high-content imaging to evaluate the acute toxicity of neurotoxins. OrganoPlate allowed the study of membrane-free vascular formation in a dynamic environment and further provided reliable and repeatable experiments with strong imagining capability." — Dr. Yeoheung Yun, Associate Professor at North Carolina A&T State University
"Often you have to compromise: it's either the throughput or it's the complexity of the model. Getting both in the same platform…no other platforms can do that!" – Senior Scientist from top pharma

Speaker
Dr. Henriette Lanz, Director of Model Development at MIMETAS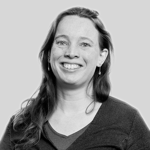 Henriette has received her Ph.D. in Molecular Biology from Leiden University in 2012, and a cum laude Masters in Life Science Technologies. She worked on cancer-selective target discovery at Leiden University and secondary metabolite production at Explant Technologies. In her current role at Mimetas, she supervises a team of senior and junior scientists and technicians, alongside Ph.D. and MSc students. The specific focus of her research activities at Mimetas are the development of organotypic models for drug screening and toxicity evaluation within the fields of kidney, vasculature, and cancer.

Related publications