Leiden, May 5, 2023 – MIMETAS researchers develop an in vitro model of the placental barrier, which could aid in understanding preeclampsia (PE) and other placental pathologies associated with hypoxia/ischemia.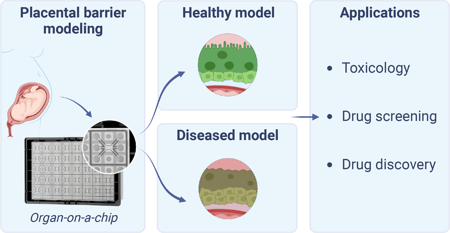 PE is a pregnancy-specific disorder affecting 5-8% of all pregnancies worldwide and is one of the leading causes of maternal and perinatal morbidity and mortality. Despite this, few reliable and early predicative biomarkers, preventive measures, or treatment strategies are available. This is mostly attributed to difficulties studying the placenta in early stages of pregnancy, whereby existing models are limited in translatability and throughput. In addition, key components of the placenta such as trophoblast differentiation into syncytiotrophoblasts and the physiological maternal-fetal distance interface are commonly missing.
To address these drawbacks, MIMETAS scientists developed the first human placental-barrier-on-a-chip system modeling pathological characteristics linked to uteroplacental hypoxia. Comprising a multi-layered functional syncytium and umbilical endothelium separated by a thin connective tissue-like extracellular matrix (ECM), the healthy placental barrier model recapitulated essential features of early pregnancy, including barrier function, polarization with transporter functionality, and hormone secretion. To induce PE-like characteristics, researchers exposed the model to low oxygen and ischemic tensions, features of the disease environment and found that the placental barrier on-a-chip showed a damaged syncytium, characterized by altered trophoblast differentiation, reduced barrier function, and downregulation of angiogenic markers, which are all known to be features associated with uteroplacental hypoxia associated pathologies, such as PE.
Overall, the study sheds light on the underlying mechanisms of preeclampsia and provides an innovative approach to studying the placental barrier. While the healthy model represents a powerful tool for modeling drug placental transfer and toxicity assessment during pregnancy. The researchers' work also has implications for understanding other placental pathologies associated with hypoxia/ischemia. Its potential for high-throughput screening approaches will open tremendous opportunities in the identification of new targets and the development of therapies for the prevention or treatment of those diseases.