A Decade of Breakthroughs in Human Tissue Modeling for Drug Development

In 2023, MIMETAS will have her 10-year anniversary! To celebrate A Decade of Breakthroughs, we decided to transform our annual 3D-cember event into a much bigger celebration!
In the past decade, major advancements have been made in human relevant tissue models, such as the combination of iPSCs and organoids with complex 3D in vitro systems. MIMETAS believes that capturing the intricate processes of a disease is the key to understanding its underlying mechanisms to develop novel therapeutics for the unsolved diseases of today. Dissecting these processes through complex disease modeling can put compounds and targets in the right patient context. Establishing this context enables a more accurate prediction of a drug's clinical outcome, and increases the success rate of drug development.
​​With breakthroughs in the field expanding rapidly, we want to highlight the latest advancements in disease modeling for drug development yet. Join us this February 9th in our grow. Learn. Discover. anniversary event from the comfort of your (home) office or lab. Enjoy an inspiring scientific program, involving international key opinion leaders from pharma, biotech, and academia. Besides interesting lectures, the program includes a round table discussion addressing the question "In vitro models on the critical path towards new drugs. Quo vadis?'.
One event, Three broadcast moments
Register now for your specific time zone:

Europe & US East US West APAC


Our online Grow. Learn. Discover. event will be live-broadcasted on Thursday, February 9th from 3-6pm (CET) for our European & Eastern US audience.
To accommodate the rest of our global viewers, the event will be broadcasted at two more time-zones:
Thursday, February 9th from 12-3pm (PST) for our Western US audience
Friday, February 10th from 2-5pm (JST) for our APAC audience
Speakers & Program
Please find here the full program for each time zone:

CET and EST PST JST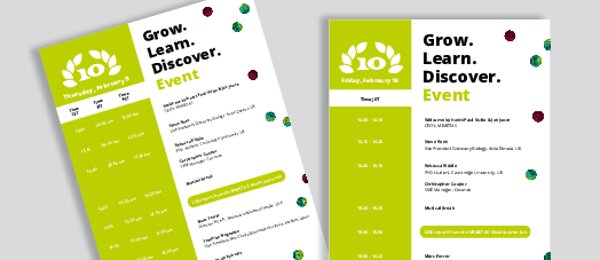 Round table panel:
Gero Goverse, Ph.D., Director Immune-Oncology, Crownbio Inc.
​Christopher Cooper, SME Manager, Labcorp​
Nienke Wevers, Ph.D., Associate Director Biology Services, MIMETAS
​Host: Jos Joore, CEO, MIMETAS



Speakers:
Steve Rees, OBE, Vice President Discovery Biology, AstraZeneca
Target Discovery through Genomics, Functional Genomics, and Artificial Intelligence


Yasuhisa Ngasaka, Ph.D., Vice President Non-Clinical Biomedical Science, Astellas
Towards Effective Use of Microphysiological System as an Advanced Translational Research Tool


Henriette Lanz, Ph.D., Vice President Biology, MIMETAS
Placing compounds and targets in the patient context through phenotypic disease modeling

Marc Ferrer, Ph.D., Director, NIH
Advancing Drug Discovery with Biofabricated 3D Tissue Models


Rebecca Riddle, PhD Student, Cambridge University
Using the OrganoPlate® to Develop a Vessel-on-a-Chip Model of Inflammation
Want to know more? Get in touch!

Contact us